Ever wonder why your girlfriend/sister/mom/daughter/female co-worker keeps giving you the side-eye of frustration? Here are a few things that you might want to avoid in the future, and maybe you'll get a little less shade thrown your way.
1. Greeting us with "MAN, YOU LOOK TIRED"
Umm...thanks? By tired, do you mean awful? Sorry, we did't realize that forgetting to put on makeup this morning meant that we would suddenly resemble a character from
The Walking Dead
. Always good to hear from you though, Leann from two floors up. Always good to hear from you.
2. ASKING A GILLION TIMES, "YOU GOT THIS?"
Yes, we
got
this. You don't have to ask
yet again
. The little extra grunt that we make lifting that box or pushing that cart is not a gut-wrenching cry for help or the signal of a damsel in distress. Believe me, if we DON'T "got this," we'll make sure that you're the
first
to know.
3.TELLING US TO "CALM DOWN"
We
are
calm. Just because we don't agree with you, doesn't mean that we've suddenly lost all sense of self-control. Our voices aren't raised, our arms are at our sides, and we're not shouting from the rooftops. Though you telling us to "calm down" in a condescending voice, kinda makes us want to.
4. THE WORDS "YOU DESERVE SOMEONE BETTER"
Yeah, we do...deserve someone who won't tell us that we "deserve someone better."
5. TEXTING "HEY"
There is nothing more frustrating than checking your phone all day (for your crush to contact you or for your boyfriend to respond to a text) and finally receiving a message
with only three letters
. Really? How are we supposed to even respond to that with something other than a "hey" back? The lack of effort in that one word makes us not even want to continue a conversation with you.Try again, buddy.
6. ANSWERING "FINE"
A lot like the dreaded "hey," the lack of effort in this answer (after we ask you about your day or how you're feeling) is astounding. And ridiculous. When we ask, it's because we actually care, so the least you can do is give us a full sentence. One noun. One verb. At the very
least
.
7. HACKING INTO OUR PHONE AND LEAVING A BUNCH OF SELFIES
It was mildly funny the
first time
. Now, it's just annoying. You have a YOUR OWN cellphone for a reason.
Use
it.
8.HACKING INTO OUR FACEBOOK AND LEAVING A "YOU'VE BEEN HACKED" STATUS
This
WASN'T
funny the first time. And the fact that you seem to be making a habit out of hacking is more than a little disturbing.
9. ASKING IF WE'RE "SURE" THAT WE WANT SECONDS OR DESSERT AT DINNER
Yes, we're
sure
. You're not "helping." You're hurting. Believe me, we are MORE than a little aware if and how much weight we may need to lose, so if we've taken it upon ourselves to order that extra slice of tiramisu after dinner, keep quite and go with it.
10. SAYING "OHHH, IT MUST BE THAT
TIME
"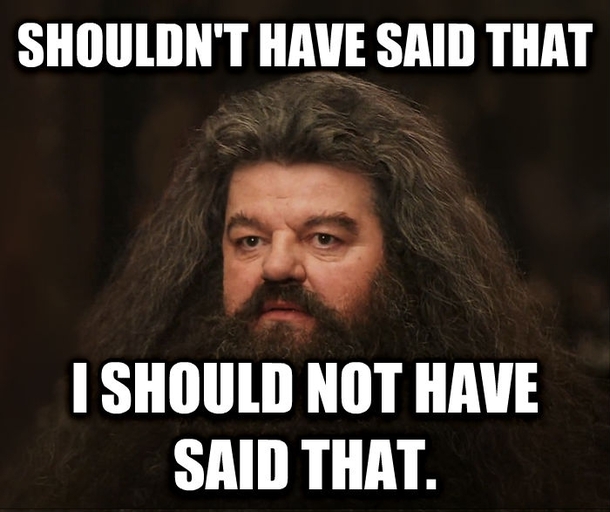 It is. That time...for you to leave
now
before I do or say something I'll later regret.
11. PRETENDING THAT EVERYTHING'S OK
Whether you're our bestie or our bae, walking up to us the day after a fight with a fake smile on your face and no intention of an apology or even closure is
not OK
. We may not still agree on the situation, but we at least want to know that both parties involved have the ability to move past an argument, not ignore it all together.
12. THE SENTENCE "LET'S HANGOUT SOMETIME"
OK,
when
? Tomorrow? In three weeks?
In three months?!?!
The fact that you're non-committal doesn't make you seem "more mysterious," it just makes you seem like a player, and
in the famous words of Sweet Brown, "Ain't nobody got time for that."
13. LAUGHING OR MAKING LIGHT OF A GIRL'S FEELINGS WHEN SHE TELLS YOU THAT SHE LIKES YOU
Seriously
? You think
NOW
is the best time to show off your effervescent sarcasm and self-proclaimed wittiness? Do you have any idea the amount of courage that it took to even come over here and say these words?!?! You know what? Forget this conversation ever happened because we already have.