Having been a "four-eyed" girl my entire life, I've experienced more than a few of these problems.
1. FOGGGG.
Whether you're cooking, taking a shower, drinking any hot beverage imaginable or just stepping out of your car on a day with an ounce of humidity in the air, this will happen...and it sucks every time.
2. EYE MAKEUP BASICALLY DOESN'T MATTER.
Seriously, you can spend 30 minutes putting on the perfect amount of eyeshadow, eyeliner, mascara and highlighter and blend it all to perfection. Who's gonna see it after you put on your glasses? NO ONE, that's who.

3. PEOPLE ACT LIKE THEY DON'T KNOW YOU WITHOUT YOUR GLASSES ON.
And their reactions usually range somewhere between "Quick! Put your glasses back on!" and "I didn't know you were a diva under there! Girl, get yourself some contacts!"

4. EVERYONE WANTS TO TRY THEM ON.













Did everyone wake up one day and decide that thick glasses were the next "it" thing? And when did your glasses somehow become the free-for-all model? Also, the quips about suddenly being smart, the gasp, as well as the inevitable "Wow, you are blind!" after someone tries them on gets old. Really old.

5. MASCARA = UTTER FAILURE (Every...single...time.)
And no matter how many times you blink, those smudges aren't going away any time soon.
6. SUNGLASSES AREN'T EVEN A POSSIBLITIY.
Unless you count the whole "wear your prescription glasses under your sunglasses" thing that everyone can clearly see through, or the flip up/down tented lenses that attach to your regular ones...
classy
.
7. RAIN IS ABSOLUTELY THE WORST.
As ridiculous as mini-windshield wipers sound, wouldn't you jump at the chance buy a lifetime supply of those bad boys if it meant
never
having to deal with this again??
8. THE STRUGGLE OF PUTTING ON GLASSES WITHOUT MAKING THEM LOOK CROOKED.
And no matter how many times you take them off and put them back on, they never just sit
straight
.

9. TAKING THEM OFF FOR A SECOND, THEN REALIZING YOU'RE MISSING OUT ON SOMETHING HUGE.
Then, having everyone around you describe to you in detail what it was that you just missed out on.
10. LOSING THEM IN THE FIRST 5 MINUTES OF YOU WAKING UP IN THE MORNING.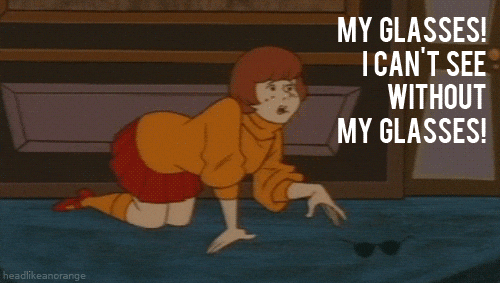 Even though you put them in the
exact same place
every single night before you go to bed.
11. KNOWING THAT DESPITE ALL OF THESE THINGS, YOU'LL PROBABLY BE WEARING GLASSES FOR THE REST OF YOUR LIFE.
Hey, they're a part of who you are. Work it, girl!