So work was a mess again. The dog is sick, the kids got into your good makeup, your friends are being a little too clingy, your boyfriend/girlfriend is being a little too distant, and you're too tired to do anything about it. There's only one thing left to do, my friend...turn on some good ole' Netflix.

And while a movie or two here and there is say, I don't know, normal, you might be a little more like me, which means you might have a problem. What's that saying about too much of a good thing???

Here are some signs you might be addicted to Netflix:

1. When someone references a show and you immediately respond by referencing all of your favorite quotes/moments from random episodes throughout all of the seasons.
2. When you receive a notification about a new show/movie being added to the queue and your face is all...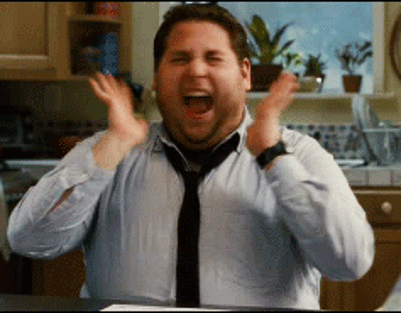 3. When words like "queue" and "streaming" are a part of your everyday vocabulary.
4. When you're constantly coming up with inane excuses as to why you should stay home from work...to watch Netflix.
5. When you start to tell yourself that this is the last episode, but the show ends and you're just like...
6. When you start defending your Netflix viewing to anyone who will listen.
7. When you start negotiating priorities...with yourself.
8. When someone asks you if you watch Netflix and your immediate response is...
9. When you realize you've watched every episode of a new Netflix original...in under 24 hours.
10. When you realize that you have absolutely no social life (other than your relationship with your Netflix account, that is.)
11. When your computer freezes and all you can think is...

Not that that will even slow you down. Just reboot your computer and you can start your love affair with Netflix all over again. Because, yes, it's a problem, but it's a problem we all can live with.