If you're like us, celebrity Instagrams snapped in Hawaii and Ibiza have gotten us feeling a little bit of wanderlust lately. Even though we can't afford to hop on a jet and fly to some remote island, there's a slew of beauty products out there that can convince you that you're in Fiji if you just close your eyes and sniff. The tropical vistas on the some of the packaging don't hurt, either. While it's not the same as having sand between your toes, it's wayyyy more comfortable to just slather it on and bask in your air-conditioned room.
Korres White Grape Showergel
, $19.50
Scented by the prolific white grapes that grow on the Greek isle of Santorini, this body wash also has notes of peach blossom and Aegean Sea air.
Tom Ford Neroli Portofino All Over Body Spray
, $65
The fashion designer and frequent traveler created this scent with Italian bergamot, Sicilian lemon and Tunisian Neroli to create a crisp scent evocative of the Italian Riviera. The price tag is hefty, but not nearly as expensive as the eau de parfum. #treatyoself
Alba Botanica Hawaiian Shampoo Drink It Up Coconut Milk
, $10.50
Ultra moisturizing, this hydrating shampoo was made for dry summer tresses damaged by wind, salt and sun. Better still, it's formaldehyde and sulfate free.
Pacifica Malibu Lemon Blossom Body Butter
, $15
This creamy lotion captures SoCal with a floral medley of lemon blossom, Litsea Cubeba and Angel's Trumpet as well as sea salt and herbs.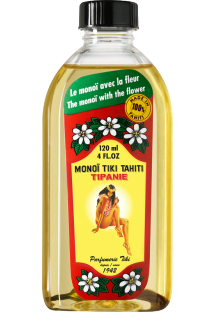 Monoi Tipanie Oil
, $11
An old-school French-Tahitian favorite, this body oil scented with Tipanie - or plumeria - flower is a luxuriously hydrating way to transport to Polynesia.
Lush Jungle Conditioner
, $9
Cocoa butter softens hair while passionfruit, avocado, figs, bananas and kumquat scent your hair with an all-natural fragrance as wild as the Amazon.
The Holistic Science Co. Tamanu Kukui Body Butter
, $38
This concentrated vegan body butter repairs beachgoers' skin with with Tamanu and Kukui nut oils, native to Hawaii.
Demeter Fragrance Library Great Barrier Reef
, $20
Demeter's inspo for this fragrance is the "warm Pacific ocean and the powdery, sweet-scented coral."
We want to go to there.
Tocca Bali Candela
, $38
Bali's sacred Champaca flower is the lead note in this tropical candle, for nights when you need some faraway peace and harmony.