When I was a teenager my mom wouldn't let me put up posters of celebrities on my walls. She hung a print of Van Gough's sunflowers over my bed instead, and I sulked about it. I would sneak celebrity magazines into my room wedged between school books, tear out the posters, and hang them up behind my clothes on the back of my closet wall. When I was alone in my room I'd split the clothes apart and stare dreamily into a young
Leonardo Dicaprio
's eyes. It wasn't until much later that I understood why my mom banned me from hanging those posters on my wall. It's because idolizing people for being beautiful, singing, or acting, is kind of ridiculous. Especially when there are so many everyday people doing heroic things that are totally thankless.
Even as an adult, however, I fall into the trap of idolizing celebrities. It's hard not to, especially when they're responsible for all of your favorite entertainment. But instead of obsessing over the
Kardashians
(who have great style and nice hair) it is possible to turn our attention to celebrities who are a little more well rounded, and whose influence extends past "how to contour." Because we should learn to value a dynamic range of qualities in our idols, and because at this point, celebrity seems inescapable, here are five celebrities it makes more sense to idolize than most:
1. Emma Watson
Emma Watson not only played a female character whose greatest strength was her brains, rather than her beauty, but in real life she also proves that intelligence and resolve are more valuable qualities in a woman than looks alone. At the age of 24, she appeared in front of the UN last year to make a powerful, courageous speech about feminism, that started the whole world talking about women's rights, in a conversation that is only picking up steam. As an advocate for equality, Emma is articulate, graceful, and unapologetic, and we can idolize her not for her iconic role as Hermione Granger, but because she actively works to facilitating cultural and social change in a global setting.
2. Demi Lovato
Demi Lovato has been very public about her struggle with her self image, and tirelessly champions mental health, anti-bullying and self-love to her legion of young fans. Aside from putting positive messages into the world with her body positivity and inclusive honesty, Demi also works ceaselessly with various charities, using her celebrity for good. It would be hard to list all her philanthropic work in such a short space, but I'll try: Last year she was the LA Pride Parade Grand Marshal and the lead performer for NYC Pride Week; in 2013 she started the Lovato Treatment Scholarship Program to pay medical bills for the mentally ill; she's the ambassador of
Mean Stinks
, a campaign focused on eliminating bullying and she's a spokesperson for Join the Surge Campaign! and
DoSomething
. And that's just the tip of the iceberg. Demi is involved with so many campaigns and organizations and community work it's a wonder she even has time for music at all!
3. Taylor Swift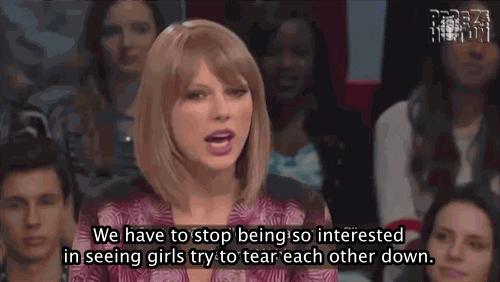 Where even to start with Taylor Swift? The woman who surrounds herself with other women, and champions feminism and women building other women up. The woman who is so talented she wrote a quadruple platinum album (
Speak Now
) before the age of 20. In fact, she's been writing her own music since she was FOURTEEN YEARS OLD! Taylor Swift's incredible talent, work ethic, and promotion of women are nothing short of extraordinary, and all qualities one can and should admire. Taylor is also deeply involved in charity work, and most recently dedicated all the proceeds of the sale of her single "Welcome To New York" to the New York City Department Of Education.
4. Laverne Cox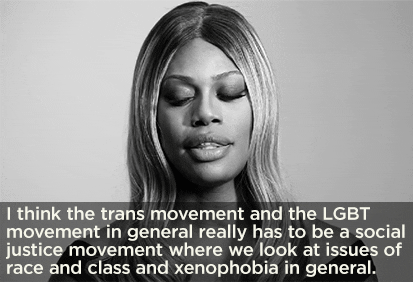 Laverne Cox is a hero for LGBTQ advocacy, so much so that her rights based work almost eclipses her acting, and her revolutionary role in
Orange Is The New Black
. That's not to say we don't absolutely adore Laverne in
OITNB
, because we do, very much so. A trans woman herself, Laverne works ceaselessly to erase prejudice, stereotypes and stigma attached to the LGBTQ community within society. Last year she was awarded by GLADD for her work in the transgender community (as well as many other awards for her advocacy work), and was the first ever trans person to appear on the cover of Time Magazine, the first trans person to ever be nominated for a Emmy, and the first to have a wax figure created in their likeness at Madame Tussauds. Truly a pioneer and trailblazer, Laverne is fearless, intelligent, and incredibly devoted to creating change, which she's actually facilitating as she chips away at the status quo. A woman truly worthy of unconditional admiration.
5. Amy Poehler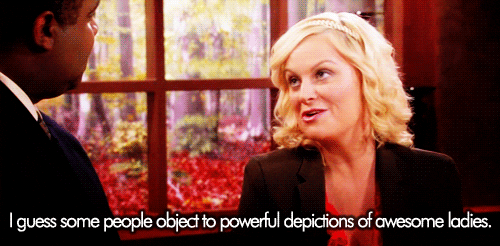 Amy Poehler is a smart, funny lady, and one that's certainly worthy of your attention. Amy's work, both in her television writing and acting, aims to encourage girls to appreciate intelligence in themselves, rather than just good looks. She started her initiative,
Smart Girls at the Party,
aiming to
"help girls find confidence in their own aspirations and talents." The web show features episodes in which Amy herself interviews girls with "unique talent, community interest or point of view." Shifting the focus from looks to ability, Amy's work aims to even the playing field and create a meritocracy in which women can be regarded for more than simply their sexuality.
(Photos: Jasmine Stairs; Tumblr; Giphy; Giphy; Giphy)