As we embark, perspiring, into this last chapter of summer, more humid than Indian, and giving us one, hopefully last, suffocatingly sweltering heatwave, our problems are vast and wet. Like boob sweat. Boob sweat is the special thing that plagues people with breasts, that occurs when sweat pools beneath one's mammaries and seeps through their shirt to leave ghastly reminders that being human is kind of ferociously gross.
Indeed, it was just this weekend that I was walking around the humidified streets of Chicago thinking everything was fine, and then looked down, to my horror, to find two perfect half moon smiles staring up at me from just beneath my breasts. I was wearing an off-the-shoulder, pale blue shift dress, so had opted to go braless, which sweaty women will know means that not only will sweat pool beneath your boobs, you'll feel it drip, drip, dripping onto your belly like a leaky faucet. I digress; what I saw on my dress was glaring, and I couldn't hide it. It was evidence that I am not one of those very graceful women who walks around in summer like she's got an invisibility cloak draped over a high powered air-conditioner which floats next to her at all times, constantly cooling any air touching her. No, I am just your regular, run of the mill, sweat machine.
If you, like me, are downcast in the face of this extended summer and its impact on your boob dryness, I'm here to tell you everything is going to be okay. Here are some things you can do to deal with unwanted boob sweat.
1. Use Deodorant
giphy.com
Deodorant isn't just for under your arms. Spritz a spray of deodorant under your boobs to curb your sweaty tendencies. Try a dry spray rather than a wet roll on, just so you're not getting sticky stuff all over your clothes. At lot of drugs stores, or even Amazon, also stock deodorant specifically for boobs (yes, really!) so you could try and hunt that down if you don't mind spending the extra bucks.
2. Sprinkle on Baby Powder

giphy.com
If you skipped the preventative measure of using deodorant and need to dry out the river flowing beneath your breasts immediately, baby powder, talcum powder, or any other kind of sweat absorbing powder is a quick fix. Dab a bit on to your problem areas and you'll be back to regular human skin in no time.
3. Ditch Your Polyester and Padded Bras

giphy.com
Get rid of all your padded bras immediately. Same goes for anything in a non-breathable fabric. If you need support, opt for underwire over padding, which will just make you hotter and therefore more prone to sweat. Likewise, choose breathable fabrics like cotton for your bras so that you're not suffocating your boobs in the heat.
4. Retire Your Baby Blues and Heather Greys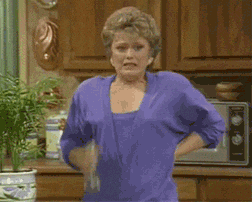 giphy.com
It's a sad day when you can't wear the staple colors that go with everything, but they'll be back, I promise. While it's boob sweat-inducing hot, opt for colors that don't show off your sweat stains as prominently. Generally, light blue and grey are the biggest offenders when it comes to betraying your sweatiness, so stick to colors you know won't give you up. Patterns and black are always good choices.
5. Use Inserts in Your Bra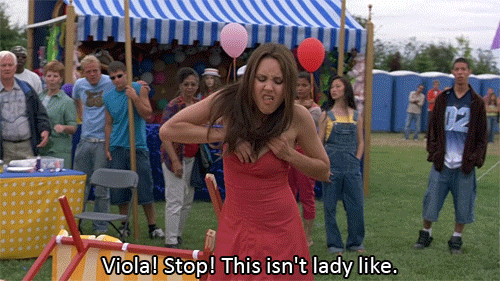 giphy.com
You might be ditching your padded bra, but you can put thin, absorbent inserts between your skin and bra material, if you like. Yes, kind of like a pad for your boobs. The padding doesn't have to be anything elaborate, just some tissue or kitchen paper, cut to the shape of your cup for comfort. I mean, it's not the sexiest thing, and you'll probably have to replace the wet paper towel in your bra every so often, but it will help mop up the moisture. No matter what though, just remember that we're in this together. All our boobs are sweating, and sister to sister, it's going to be fine. Soon it will be so cold we'll be huddled indoors for a seemingly endless winter, wistfully reminiscing about the days when our boobs would sweat.