The latest trend in beauty, apparently, is the vagacial, which yes, like "Brangelina" and "Benifer" is a clever amalgam of the sum of its parts. Those parts in this case being "vagina" and "facial." Yes, you can now
give your vagina a facial
, although imagining that your vagina has a face might be the most terrifying thing I've done since watching
Teeth
for the first time. It's the kind of beauty procedure (from it's name alone) you'd probably immediately associate with someone like
Kim Kardashian
, but in the process of learning about vagacials I found the Kardashian sisters notably absent from the vagina facial conversation, so the following information is as much for them as it is for you.
When I first heard that such a thing as a vagacial existed, I was surprised, but then almost immediately unsurprised. Of course this is a thing. Vajazzling is a thing, so why shouldn't vagacials be? I've busied myself with trying to find out all the basic information about the vagacial so that we can all make an informed decision about whether or not we need to run out to our aesthetician and beg her to start applying mud masks and pore strips to our labia. So here is it: everything you need to know about getting a vagacial.
1. Who is it for?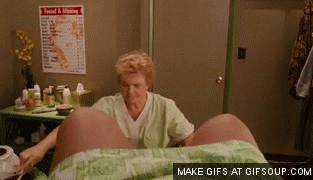 giphy.com
A vagacial is for anyone who has a vagina, although I don't see why we should discriminate. Penises are worthy of frivolous skin care too. The vagacial is intended for women who wax their bikini areas, as it's supposed to be performed one week after getting a wax. Although I'm sure a salon wouldn't turn you away if you were a shaver.
2. What happens when you get one?
PopSugar reported the process of the vagacial as incorporating the following: "the 50-minute treatment involves four steps. First, skin is cleansed with an antibacterial body wash and witch hazel. Then, a papaya-based exfoliating gel goes on before the aesthetician extracts ingrown hairs. After that, an anti-freckle, anti-acne, or calming mask is applied. It finishes off with an application of lightening cream." It does seem rather excessive, whereas a light exfoliation in the shower and then a brief application of a drug-store lotion/anti-ingrown hair treatment would seem to suffice for labial skin care for most of us.

3. What are the benefits?

giphy.com
There's not much evidence of actual benefits of the vagacial, as it's a relatively new revolution in beauty treatments. It's intended effect, however, is to smooth the waxed skin, prevent ingrown hairs, and lighten the skin color around the vagina. I mean, having smooth, ingrown free bikini line sounds fantastic, but vaginas are beautiful no matter what color they are, so the latter "benefit" seems like an undue aesthetic pressure on an organ that most certainly doesn't need any further pressure applied to it by unreasonable social standards.

4. What are the risks?

Again, there doesn't seem to be any reporting of damage caused by the vagacial, but from where I'm standing, it seems like yet another way to convince women that their bodies are somehow not naturally beautiful things. There's already so much women are expected to do, from hairlessness to contouring to being a perfect size zero. in order to keep up with the media's idealized beauty standards. While there doesn't seem to be a physical risk (unless you have allergies to one of the products used), the only risk really seems to be a psychological or cultural one. I don't really think we need to give ourselves one more ridiculous beauty routine to smother us even more. Time and money would be better spent going out with friends, reading a book, gardening... just about anything else!

5. What does it cost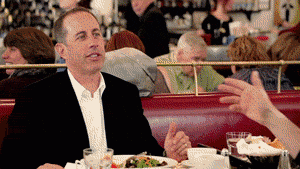 giphy.com
Get ready for it... A whopping $60. I don't know about you, but that sounds like a lot of money to have someone exfoliate and lube up the skin around my vagina. Drug store products like exfoliating gloves are cheap (around $5 for a pair), and you can use them over and over again. Lotions and other anti-ingrown hair products probably won't set you back more than $10-15 and again, you can use them more than once. Considering you're supposed to get waxed every 6 weeks or so, that's a lot of follow up vagacials, and an excessive extra cost to add to your beauty routine.

6. Where can you get one?

The vagacial was "invented" by San Francisco's Stript Wax Bar, but seems to be spreading throughout salons nation, and even world, wide. I quickly Googled "New York vagacial" and found that there are many local spas that offer the process. If you're looking in your city, I suggest you do the same!

7. So, do you need one?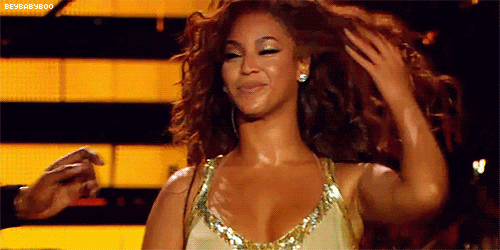 giphy.com
As far as I can tell, a vagacial is more about want than need. No one actually needs a vagacial. We've survived this long without them, rocking perfectly fabulous vaginas, so there's no need to go out blowing our back accounts on unnecessary beauty regimes. That being said, if you're at the end of this article and think the vagacial sounds enticing and you have a disposable income, go ahead and have one, and more power to you for doing things your own way. Just know that your vagina is just wonderful the way it is, and I can say that with complete confidence even though I have never seen it, because that's just the inherent, natural truth about vaginas.