I moved to New York City five years ago, and at 25 years old began an editorial internship. It was a huge, daunting step, especially as I was leaving my prior job to "chase a dream" in such an immense, crazy place as New York. I was lucky enough that I'd previously interned in London and my boss set me up with one of her friends who was an editor at what then was a start-up (but now is a prestigious, well known business), and I interviewed via Skype before I arrived. Because I had never been to the office or actually met any of the staff, I obviously had little idea of what to expect, so I was going in blind. Hopefully, with the following advice, you won't have to.
Interning in New York is very different from interning in other cities. Not in the least because of the mythology that comes with the city, the "if you can make there, you'll make it anywhere" mentality that draws ambitious career hopefuls in droves to intern for free or work for a pittance. New York has an elite reputation for many professions, and that's mostly because the saying is true. If you can climb to the top of the pile in New York, you've really made it. But with an endless stream of newcomers all vying for the same positions, the climate is competitive and kind of terrifying. Here are five things you need to know before interning in New York.
1. It's Not Always Glamorous
New York is easy to romanticize, and the idea of being an intern with nothing but a smile and a suitcase full of dreams just intensifies the romance. But being an intern in New York can be exhausting. There are long hours, menial tasks, and sometimes even skipped lunches (which aren't legal to be denied, but sometimes you get so caught up working you just forget to eat)! Be prepared for it to be ugly, boring and sweaty, and to have to wear "sensible" shoes (because you're going to be running around) rather than your stylish new boots or stilettos.
2. Except That Sometimes It Is Glamorous
But then things will take a turn and be unexpectedly glamorous. You'll suddenly find yourself invited to a Christmas party, a movie screening, or some kind of other New York social event. Know that interning has its perks and can be fun but don't get too swept up in the glamour, gossip, and drinking. If you're interning somewhere you'd like to actually work someday, get involved when you're asked to play, but don't treat it like a party, treat it like an extension of your work. Interning, as much as skill building, is also about networking, so when you put your party pants on also know that you're working and trying to build contacts and impress your higher ups.
3. Don't Be Afraid To Say No
In the dog-eat-dog world of New York internships, it's easy to be exploited. But it's okay not to stand for it. You don't have to stand in the freezing cold for 12 hours if your boss asks you to buy concert tickets for her. You don't have to put up with leaving the office at 10 pm every night, after arriving at 9 am. You don't have to do anything dangerous or anything you're uncomfortable with. And you don't have to do an internship that doesn't actually teach you any real skills or provide you with any value. Remember that even though an internship might be in-demand and competitive, it still doesn't mean it's a good internship, or the right internship for you. Don't ever sell yourself short by telling yourself "I need this." An internship, in New York as everywhere else, should be a healthy exchange of services and knowledge.
4. If You Don't Put Your Best Foot Forward, Someone Else Will Step Over You to Offer Theirs
The flip side to saying no is that there's always going to be someone with their hand up in line behind you to say "yes, a thousand times yes!" While that's not a good excuse to do something that's unfairly taxing on you or that makes you feel uncomfortable, it's something to be aware of when you're deciding how much effort you're going to put into your day. If you want to be employed where you're interning, you have the best opportunity to show your bosses why they should hire you. Don't waste it! You can be stern, stand up for yourself, and say no to things while still being a hardworking and efficient worker. If anything, your bosses will appreciate your integrity.
5. Don't Give Up!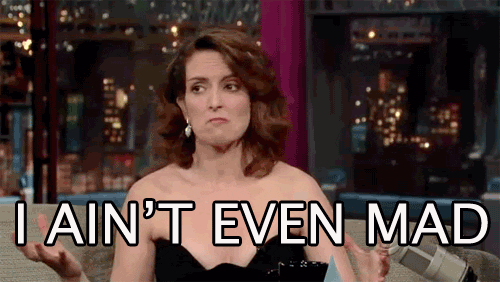 giphy.com
Look, I'll be honest with you. Things don't always go right. Maybe an internship you thought was going to be great turns out to be terrible. Maybe the company will face budget cuts and won't be hiring when you're ready to commit. Maybe, despite your best efforts, your boss doesn't like you. It's tough, and New York can be tough and unforgiving, but the thing that gives New York character is that its people are relentless. So what if your internship doesn't lead to your dream job? Mine was five years ago, and I STILL haven't figured out what I want to be when I
grow up
! It's not the end of the world. In fact, it's just the beginning. So do it. When you fall down, get back up, and bite down hard on that big apple. Eventually, you'll get right down to the core.