I forgive you for having
Kardashian/Jenner
fatigue. There's only so much celebrity gossip one human can take before the world starts to feel out of whack. If you'd like a break from Insta-fame, there are plenty of women who are worthy of your attention. Women who put more thought into themselves and the world around them than lip fillers and false nails. Women who are unstoppable powerhouses intent on creating change where change is needed.
To put your own life into perspective, sometimes it's essential to take a step back from the image focused celebrities you're bombarded with on a daily basis, and pay attention to the women who are working hard for your rights. Because once you've heard their passionate, resolute, articulate voices, the circumference of your waist won't seem like such a big deal any more. These women will inspire you, make you think, challenge to you to be better in ways more important than the brand of your handbag. Here are 5 wonderful, non-celebrity women you should be paying attention to right now.
1. Malala Yousafzai
giphy.com
If you haven't heard of
Malala
by now it's time to take notice. Malala was shot by the Taliban in her native Pakistan in 2012, at the age of 15, because she had been a vocal and visible advocate for women's educational rights. She survived and is now the youngest ever Nobel Prize laureate and a defiant, inspiring global advocate for women's rights, especially for education. Malala's life is dedicated to making the world a better, more just place, which should make your obsession with
Kylie Jenner
's hair look silly by comparison (they're the same age)! The documentary
He Named Me Malala
is a must see this year, and her book
I Am Malala
, a must read.
2. Cecile Richards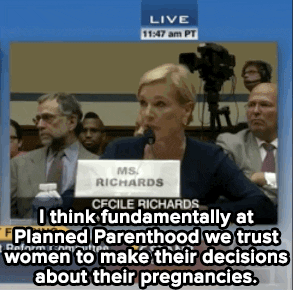 giphy.com
If you're keeping up with the news you'll know that the GOP has launched a full-on assault against Planned Parenthood, and that they're using some pretty drastic misinformation to make arguments in favor of defunding PP based on a false reality.
Cecile Richards is the President of Planned Parenthood
, and a women's rights activist who has come out, guns blazing, to defend PP and everything it stands for. During a congressional inquiry, she was and is bold, eloquent, and take no prisoners with her matter-of-fact insistence on the truth. Cecile's on the front lines of the fight for women's reproductive rights in this country, which means if you're a woman, she's basically defending your autonomy over your body.
3. Roxane Gay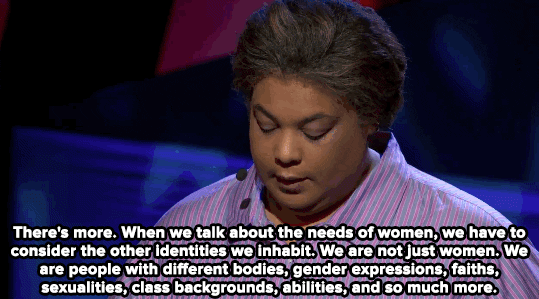 giphy.com
Roxane Gay
is my personal crush right now. She's a professor, author, editor, culture critic and all 'round champion. Her book,
Bad Feminist
, is essential reading for all modern feminists. It looks at modern culture through a critical, intersectional lens, and manages to be both passionate and cutting while remaining completely reasonable and articulate. And funny. Did I mention Gay is funny? I recommend
following her on Twitter
for her acerbic cultural observations and wit.
4. Anita Sarkeesian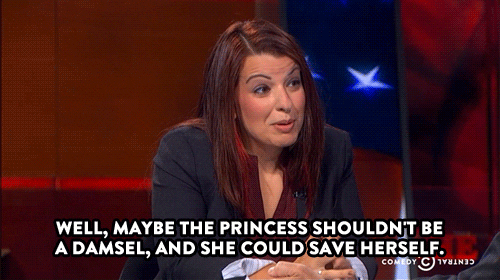 giphy.com
If you're at all interested in the ways women are represented and underrepresented in entertainment,
Anita Sarkeesian
is the name you need to know. Founder of the amazing
Feminist Frequency
, Anita tackles video games, television and movies and their relationship to women. She's biting, confrontational, and single-minded in her aim of exposing inequality and violence, and will definitely challenge your perceptions, and hopefully make you just as angry and demanding as her calm but defiant tone suggests you should be. Anita was targeted by online harassers in 2012 when she launched a Kickstarter to fund her amazing
Tropes vs. Women in Video Games
series, but she wasn't deterred. She just bit back with her impeccable intelligence, and used that harassment to further prove her point about how women are treated in gaming. Anita: 100 - Misogynist Internet Abusers: 0.
5. Lindy West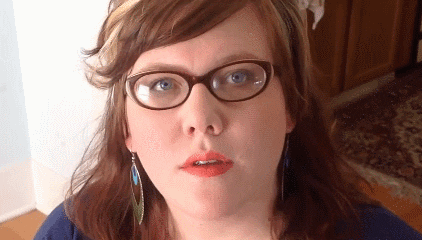 giphy.com
Lindy West
's brash, unapologetic, never-back-down attitude towards championing women's issues is inspiring. Lindy is a writer, culture critic and feminist, and recently launched the hashtag #ShoutYourAbortion to draw attention to abortion rights and the embattled Planned Parenthood. She's a mean warrior for social justice and a wonderful leader to her legions of fans. Meanwhile, she's funny as hell, especially in her movie reviews, which you can check out
here
.