Kendall Jenner
got her nipple pierced
, and in that weird and wonderful way of anyone who has
Kardashian
blood running through her veins, it's likely she's launched a new beauty trend. If you close your eyes and listen very closely, you will hear the sound of thousands of young women gasping as their nipples are pierced too. I should disclaimer this by saying I don't have my nipple pierced, but that I am definitely intrigued by the intrigue Kendall has created by piercing hers. Indeed, even her gal pal
Bella Hadid
(and
Rihanna
too)
have allegedly followed suit
.
If you're considering doing the same, you've probably got a few questions. Does it hurt? What does it entail? Can you still breast-feed one day? If you're hell bent on following Kendall's footsteps, I've gone ahead and done some research to answer your pressing questions. Whether it's concern about pain or the future of your nipple, never fear:
Nipple piercing seems like a fairly safe and straightforward process, as long as you find a experienced professional to do it under sanitary conditions
. Other than that, some basic care tips, and you're good to go. Here are 5 things you should know before you go having holes poked in your nipples:
1. It Doesn't Hurt as Badly as You Think
When I consider having a needle pushed through my nipple, I cringe when I imagine the pain. But according to Kendall, having your nipple pierced doesn't hurt as much as you'd think. While there is of course
some
pain, Kendall assured
Page Six
that it "wasn't as bad as everyone made it seem and maybe because everyone hyped it up and I thought it would be really, really bad. Then it wasn't as bad as I expected."
2. But It Will Be Sore, and Possibly Bleed, for a While
While the immediate pain is nothing to worry too much about (it's over fast!) there's going to be
soreness for a while afterwards
, and possibly even bleeding for the first week. It's important to note that if the bleeding is heavy or persistent, you should consult a doctor. Meanwhile, the piercing will also excrete a yellowish crust, which will subside over time, but will never fully stop forming. (Well, that puts a little bit of blood in perspective!)
3. You Need to Commit to Care While It Heals
Getting a nipple piercing isn't just getting a nipple piercing. After the initial piercing is done, it requires a lot of care, and you have to commit to that fulltime. At the start, for instance, you'll want to wear something tight, like a sports bra, to compress the piercing while it heals. You won't be able to swim in any public bodies of water, from pools to the ocean, for at least four weeks (so winter's the time to do it), in order to avoid infection. And it's advised that for the first 12 weeks, you clean your piercing twice a day.
4. It Won't Prohibit You From Breastfeeding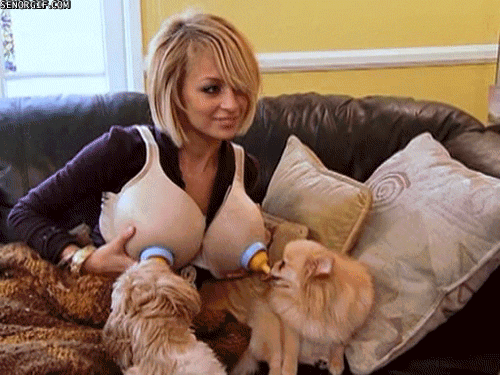 giphy.com
There's a lot of misinformation floating around about nipple piercings and breast-feeding. Getting your nipple pierced
will not stop you from being able to breast-feed in the future
. While some women experience difficulties, it's not something that automatically stops the process, and you can always talk to your health care professional about your concerns. It is, however, essential to remove your jewelry before actually doing any breast-feeding as the small parts pose a choking hazard for babies.
5. Nipple Piercings Close Up Fast
Nipple piercings, apparently, can take between three months and a whole year to heal properly. Meanwhile, they close up super fast when you take your jewelry out. Within minutes, even. Your nipple piercing hole will start becoming smaller, even marginally so, as soon as you remove your nipple ring. The upshot is if you ever decide to take it out for good, the hole will close up entirely making scarring minimal.
Want More? Like us on Facebook
Gallery |
7 Celebs That Joined the #FreeTheNipple Club on Instagram