Ingrown hairs are the worst. There's no other way to describe them. They might be fun to squeeze out when they're ready and willing to burst out of their below-the-skin prison, but when they're deep under the surface and stubborn, they can be unsightly and painful. As a Greek (hairy) woman who has been waxing her bikini line for at least half her life, I have a lot of experience with the vagina scourge that is the ingrown hair. Sometimes, I even think things like "How bad would sideburns really be?" when I'm dealing with particularly bad ingrowns.
Ingrown hairs are mostly common in women with darker skin types (I'm Greek, so olive) and curly, thick hair (again, Greek), but they also don't discriminate. They could happen to anyone. Yeah, I'm looking at you, blondie. Ingrown hairs can happen to your bikini line for no reason, but when you wax, you're pretty much guaranteed to eventually run into one. Dealing with ingrown hairs on your bikini line is a two-fold process. First there's maintenance and prevention. When that fails (which it inevitably will), you'll have to deal with the ingrown hairs themselves. Here are some tips for both:
1. Exfoliate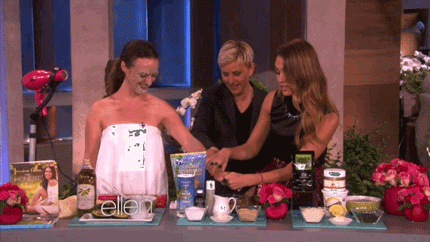 giphy.com
Twenty-four hours after your wax,
exfoliate the waxed area
. Be gentle - you're not trying to sandpaper your skin off, just lightly remove any dead or dry skin that might be hampering hairs from seeing the light of day. Buy a nice, organic scrub (I love Burt's Bees) and an exfoliating glove and use these every time you shower, unless you have ultra sensitive skin in which case you might have to do it less frequently.
2. Use an Ointment or Serum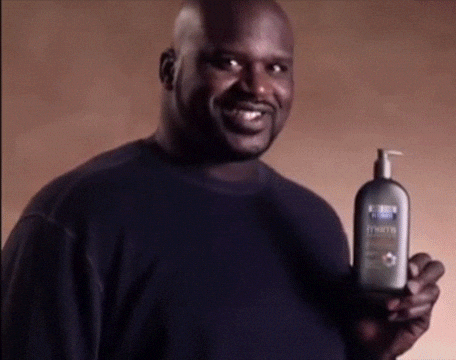 giphy.com
There are lots of products specifically formulated to prevent ingrown hairs (I use one my salon creates and sells, your salon might have something similar, and if it doesn't, you can check out the hair removal section at your local drug store for products). These products aren't a guarantee of zero ingrown hairs, but they do help manage and minimize the situation if you're super prone to them.
3. Keep Your Ingrown Hairs Clean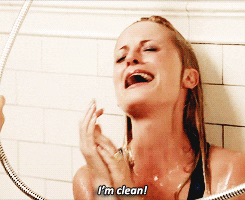 giphy.com
When you do get ingrown hairs,
keep them clean
! Like pimples, ingrown hairs are prone to infection, so you should wash them thoroughly in the shower and as soon as possible after exercise so your perspiration doesn't inflame them.
4. Tease Them Out With Tweezers
giphy.com
Some ingrown hairs can be teased out
, but it's important to do it hygienically. Clean the area where the ingrown lives, and run some tweezers under hot water or disinfect them with an ointment. The important thing here is to be VERY GENTLE! You're not looking to draw blood. You just want to lightly scrape at the hair and see if it breaks through a very thin layer of skin. It it doesn't don't force it. Leave it for now and continue with exfoliation until the hair comes closer to the surface.
5. Hold a Warm Compress Over Them

imgur.com
Run a hand towel under warm water, and then hold it over your ingrown hairs. This will reduce any swelling and soften the hair. If you're plagued by ingrown hairs on your bikini line, just know: you're not alone. I'm right there with you, armed to the teeth with my best squeezing, exfoliating, disinfecting gear.